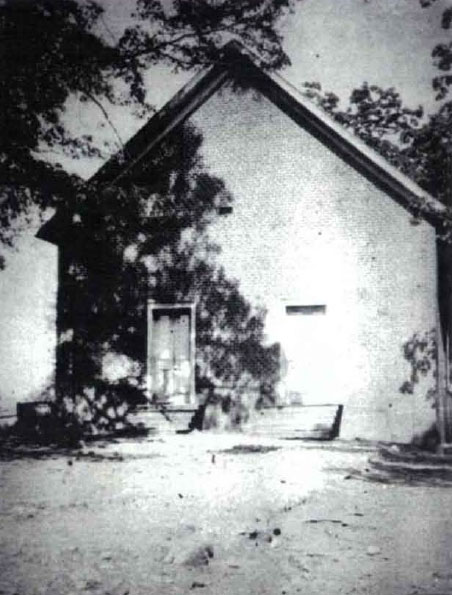 First Baptist Church's orginal building was destroyed by fire in the Civil War era.
This "church house" was constructed in 1879.
During it's 175 year history, Franklin's First Baptist Church has made quite an impact on our community. It is known as the Mother Church of Franklin due to a number of area churches actually being formed as a result of its outreach missions in the early 1800's. Eleven churches in all were given their beginnings by Franklin First Baptist. All are still in existence today and include Cowee, Coweeta, Sugarfork, and Watauga Baptist Churches.
Mountain Ideals Magazine would like to share with you some "highlights" from the history of Franklin 's First Baptist Church. This information was compiled by the committee in charge of their 175th anniversary celebration. Events are listed in chronological order and we think you'll enjoy this glimpse into the past.
May 04, 1822: First Baptist Church of Franklin, NC was organized.
July 17, 1822: Elder Humphrey Posey was elected as the first Pastor.
October 02, 1824: The first member of the church was received by baptism.
February 03, 1828: The first mission of First Baptist was established in the Cowee community.
February 28, 1829: A decision was made to build a church. Three acres were purchased at what is presently the corner of lotla and White Oak Streets for $ 11.15.
July 1832: During a business session a motion was made to pay Elder Posey. It was noted that he had not been paid since he had become pastor.
March 01, 1834: A Sunday School program was started.
February 05, 1842: Plans were made to have the first revival services.
May 07, 1865: No service was held due to the possibility of Yankee Soldiers in the county.
August 04, 1866: The first time an "annual" fixed salary was set for the pastor. His annual pay was $50.00.
1884: First hymnal, "Hymns of Praise" was purchased at a cost of 10 cents.
1886: The bell that is presently in the steeple was purchased.
February 02, 1913: The church began full time services: two Sunday services, prayer sevices, monthly conferences and an envelope system for offerings.
April 04, 1920: The first service was held in the new building.
1932: Mrs. Dick Hudson was elected as the first choir director.
June 1935: Vacation Bible School was held for the first time.
June 07, 1945: Miss Josephine Hair was elected as the first educational director.
March 11, 1953: Ground-breakingservice was held on the back lot of the church property for the ducational building.
May 08, 1957: First broadcast of worship service on radio.
December 22, 1963: The first service was held in what is the present day sanctuary of the church.
July 1977: The new pastorium located in Hemlock Hills was completed.